Do you love coffee? Are you someone who wakes up, and just can't wait for that first sip of that inky black elixir? Hey, there's no need to be ashamed! Coffee is one of the most consumed beverages on the planet. There's a reason why so many people love it. Coffee is such a big deal in fact, that some cities specialize in it. One such place is the city of Seattle. This northwestern city is known for its culture of coffee consumption, and with so many high-quality coffee shops to choose from, it's easy to see why. But thus remains the question. Where does one go for their daily caffeine fix? Well, in an endeavor to answer that question we've created this magnificent guide to five of the best coffee shops in Seattle, each replete with its unique vibe and atmosphere! So without further adieu, let's get started.
Starbucks Reserve Roastery
Now, our first entry onto this list is going to double as one of our most touristy too, so if you're a first-time visitor to Seattle then this is the entry for you! We're talking of course about the Starbucks Reserve Roastery. Located on Capitol hill, this Starbucks is a must-visit for anyone interested in the art of coffee making. This is a roastery that features an immersive coffee-drinking experience, with a variety of brewing methods and a selection of rare, small-batch "Reserve" coffees. Not only is the Reserve Roastery a great coffee place they have a wide selection of food and pastries as well! If you're so inclined you can even have yourself a cocktail!
Victrola Coffee Roasters
The Victrola Coffee Roasters is an amazing more locally renowned coffee joint in Seattle. With locations in Beaker Hill, Capitol Hill, and Pike Place. This is a delicious spot perfect for both locals and tourists! The shop sports an amazingly kitsch laid-back kind of atmosphere, and serves not only an amazing assortment of coffee but pastries and sandwiches as well! Additionally, Victrola is a company that is staunchly in support of sustainability, so they use eco-friendly materials for their cups as well as sourcing their beans as ethically as possible! If you're looking for a cooler shop than a Starbucks that still has the people of Seattle buzzing, then look no further!
Caffe Vita
Caffe Vita is a Seattle-based chain with several locations all around the city. These locations include the Capitol Hill, Queen Anne, and Fremont neighborhoods. The coffee shop shares the same kind of laid-back vibe that Victrola has, but features more ambitious kinds of coffee blends, as well as an intriguing subscription service. This is one of the more ubiquitous shops found around Seattle.
Espresso Vivace
Espresso Vivace is a darling local chain that specializes in…you guessed it! Espresso! This company not only wants to serve you espresso, but they also want to teach you how to make it. So if you ever get tired of visiting one of its three beautiful locations. You can always navigate over to their website where the owner has created a series of engaging and entertaining tutorial videos on the finer points of crafting a latte.
Cherry Street Coffee House
Cherry Street Coffee House is a staple of Seattle. Featuring four locations all in the heart of Seattle's west side, this is a coffee house visited by tourists and locals alike. Part of the reason for that is how spectacular the coffee is! But that's not the only trick Cherry Street has up its sleeve. They also serve a fine array of food! From an amazing mozzarella heavy Caprese style sandwich to a delectable quiche. Cherry Street is a great place to grab a meal as well as a coffee!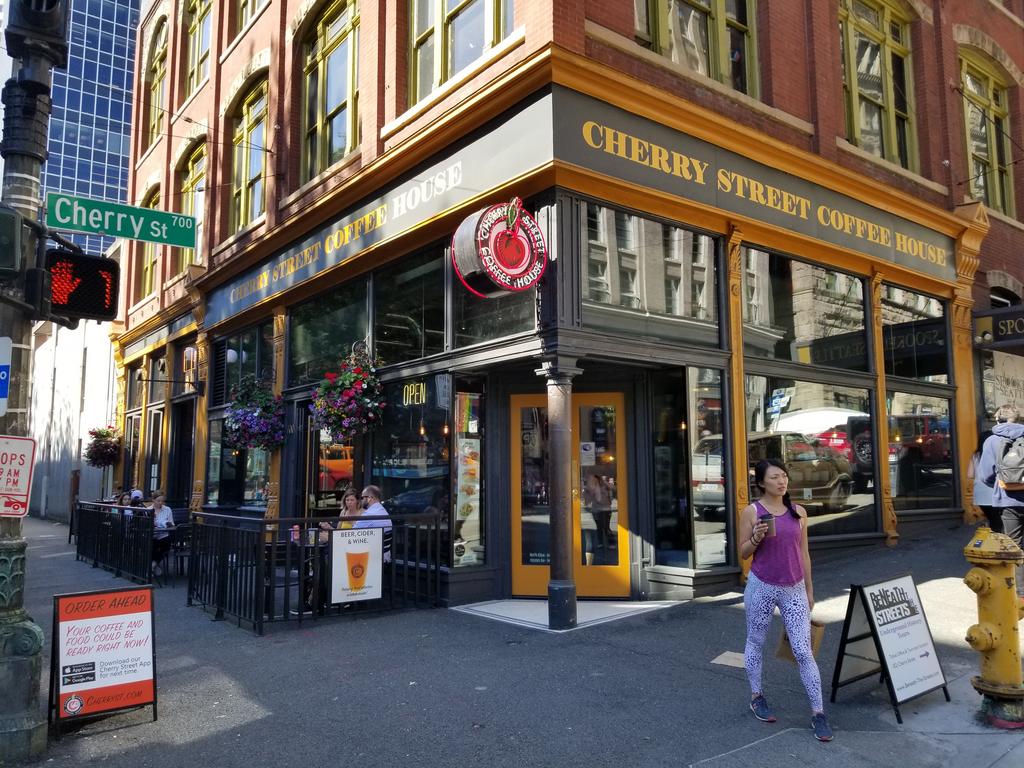 Conclusion
Seattle is an incredible city. It has an atmosphere all to its own that makes it a unique destination, for anyone who's grown a little weary of the classical American city. With so much to do and so much to see it's easy to imagine one spending an entire day just gazing at the Seattle billboards and remaining perfectly content. Even though that may initially seem like a silly image, it is not far off from the truth. As we've done some digging into all of the best places to get coffee in the city. One commonality has emerged. Every single one of these shops prioritizes having a laid-back atmosphere. A kind of cozy place where one simply wants to grab some shelter from the rain and enjoy the small indulgence of a hot cup of coffee on a cold day. It also seems that this is true for practically every other part of Seattle. Some kind of familiarity emerges when one is confronted with the elements on an even scale. In this way, it makes every coffee shop worth going to. It's a place where people from all walks of life congregate to celebrate a simple and singular thing. A fresh cup of coffee. CNN, Contrary to worries among some doctors and the public, drinking coffee may actually protect your heart instead of causing or worsening heart problems.
Drinking two to three cups of coffee daily has been associated with a 10% to 15% lower risk of getting heart disease, heart failure or a heart rhythm problem, or dying early for any reason, according to three research abstracts published Thursday.