What's funnier than dressing your pug in human clothes?
Dressing your pug in a Halloween costume.
Here, 24 ideas for your trick-or-treating (fine, Instagramming) pleasure.
1.
2. For the dog who keeps up with current events.
3.
4. An identical twin.
5. A hapless lobster.
6. A hot dog.
7.
8. Funny-faced!
9. Scarlet O'Hara
10. Teen Wolf
11.
12. "Shouldn't I have on a hunting vest? What if they try to shoot at me?!"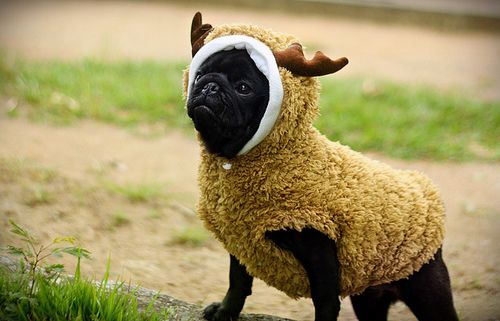 13.
14. Best representative of yin and yang I've ever seen!
15. Plain or peanut?
16. This pug does not want to be dressed as an elephant anymore.
17. This pug is terrified of bats.
18. This pug does not understand why she has been dressed up as a pug.
19. This pirate pug is depressed.
20.
21. These pugs hate flowers now.
22. This pug hopes that no one will recognise him.
23. This pug is pleading for mercy.
24. This pug never asked to be dressed up like a lion.