Cat Litter Box And More : Getting a cat is an amazing and exciting experience, especially for first-time cat owners! It can also be a little overwhelming, and you don't want to forget some essential items during all of the excitement. Here is a list of essential items you'll want to have ready when you bring your new cat home:
Cat Litter Box And More :
Cat Litter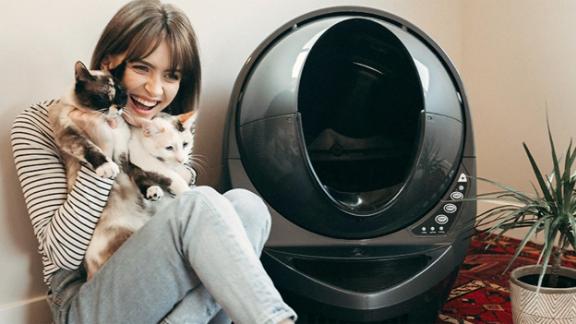 The most popular type of cat litter is clumping clay litter such as Arm and Hammer cat litter. This litter is not very expensive, comes in unscented and scented options, but it can be easy for your cat to track around the house. (Pro tip: If you like scented litter but worry that the smell may be too strong for your cats, get the unscented version. Then, get the odor eliminator spray from Arm & Hammer & spray the litter as needed. It smells just like the scented litter!)
Luckily, there are many other options like silica gel litter, recycled paper, and even a few all-natural options. Pine, wheat, and even corn have been said to not track as much. One popular all-natural litter made of corn is World's Best Cat Litter. Another
good option is Pretty Litter which helps to monitor your feline's health by changing color if it recognizes issues in the urine.
Cat Litter Tray
Each cat can have a different preference, so it's important to find a cat litter tray that suits both your home and your cat. Some litter trays may contain the litter a little bit better than others, but none will keep 100% of the litter inside. You should pay attention to the shape of the tray, the size, as well as the entry type. A hooded litter box will always help to keep in more litter than one without a top.
Litter pans or covered litter boxes can have entrances on either side, both sides, on the top, or all of the above. Some cat owners say that the top entry may contain the most litter. However, keep in mind that this type may be difficult for older cats or smaller kittens to use. If you've got a home with limited space, you may want to try a corner-style litter box.
Cats tend to dig around when going to the bathroom and may do this even more when the litter box is dirty, and they can't find a clean place to go. Getting an automatic or self-cleaning litter box that cleans up after each use can help to keep the litter under control.
Litter Box Furniture
Only you and your cat need to know where the litter box is. A modern litter box cabinet that blends in with your home decor is an excellent way to meet your cat's needs without compromising your home's aesthetic.
The Refined Cat Litter Box Deluxe is a litter box enclosure that is customizable from the front panels down to the feet. It also comes in multiple wood finishes, features a hidden storage drawer, and has rear slots that can hold carbon odor filters. When placed in the rear ventilation slots, carbon odor filters will trap and absorb the odors before they ever enter your home.
Cat Tree
It's no secret that cats love to climb and perch on places high off the ground. Putting a cat tree in your home will help keep them from climbing on and damaging other pieces of furniture. However, the usual cat trees can look tacky when mixed with modern, upscale furniture.
The Refined Feline makes modern cat furniture like the Lotus Cat Tower that will blend right in with the furniture in your home. Its tall design featuring multiple perches, a bed, and a scratchpad makes this the purrrfect cat tower to fulfill all of your cat's needs. Meanwhile, it won't take away from the look of your home, it'll actually add to it!
Cat Food
Nowadays, there are endless options on the market for cat food. There are also many new diets like grain-free and raw where the science surrounding them is still new. So, people have many different views about the right diet for a cat. When trying to choose the right cat food, it's best to consult your vet and find out if your new pet has any special dietary needs. If the cat is still a kitten, you can try out any kitten food at first while deciding on the right one for your pet. It's usually recommended, though, to feed both wet food and dry food throughout the day.
Water & Food Bowls
You obviously can't forget a food and water bowl for your new furry family member. There are many types of food bowls out there, but elevated stainless steel or ceramic bowls are usually best. When selecting a water bowl, a great option is one with a running stream. A water fountain for your cat will encourage them to drink water more frequently. It'll also help keep the water cleaner as it filters through the machine.
Cat Scratching Post
Cats have to scratch and sharpen their claws; it's in their nature! Issues can occur, however, when your cat decides that your furniture is the perfect place to do it. However, it's not difficult to manage your cats' need to scratch with the right tools. Providing a scratching post for them to file down their claws is an easy solution. The Calypso Everlasting Cat Scratcher is a durable cat scratcher made of claw-proof faux rattan. Cats love to scratch this durable material; it will never fray, and it will always look great in your home!
Cat Toys
Last but not least, you're going to need to make sure you get some toys to keep your cat entertained. Cats are playful tiny creatures that need stimulation and ways to release energy (especially if you want to sleep through the night)! The flopping fish cat toy from Amazon is a great interactive option. This stuffed fish cat toy has an electric motor inside of it that mimics a flopping fish. Cats will go nuts over it for hours! Thus, it creates the perfect entertainment source for both you and your new pet.

Once you check off everything on this list, you can sit back and enjoy being a new cat parent. The joys that cats can bring to their owners are truly endless.

================================================

[fbcomments]