1. Hilary Duff
American actress and singer.
2. Lady Gaga
American singer, songwriter, and actress.
3. Hugh Jackman
Australian actor and producer. Jackman has won international recognition for his roles in major films, notably as superhero, period, and romance characters. 
4. Ashley Olsen
American actress, fashion designer, producer, author, and businesswoman.
5. Leonardo DiCaprio
American actor and film producer. He has been nominated for ten Golden Globe Awards, winning two, and five Academy Awards.
6. Dwayne "The Rock" Johnson
American actor, producer, and professional wrestler who holds both U.S. and Canadian citizenship. 
7. Rachel Bilson
American actress.
8. Zach Braff
American actor, director and screenwriter.
9. Nicola Peltz
American actress. 
10. Reese Witherspoon
American actress and producer.
11. David & Victoria Beckham
12. Jack Osbourne
English-born American media personality.
13. Martha Stewart
American businesswoman, writer, and television personality.
14. Denise Richards
American actress and a former fashion model.
15. Christina Perri
American singer-songwriter and musician from Bucks County, Pennsylvania.
16. Ashlee Simpson
American singer, songwriter, and actress.
17. Kris Allen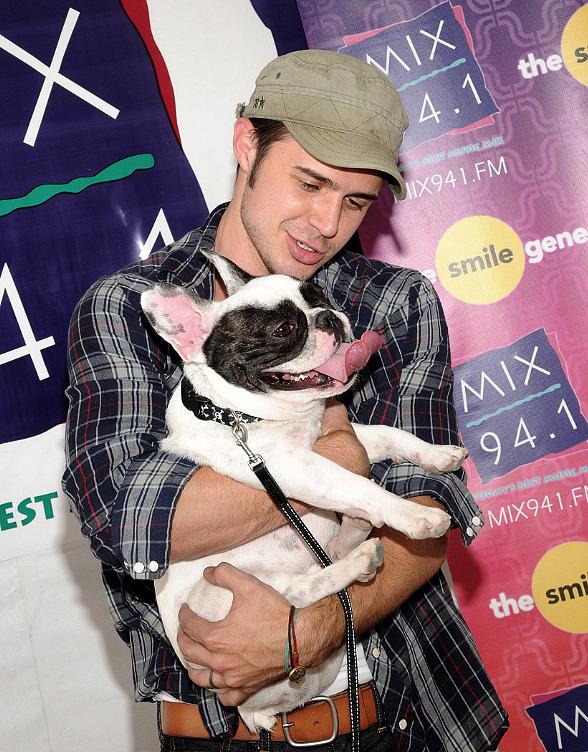 American musician, singer and songwriter from Conway, Arkansas, and the winner of the eighth season of American Idol.
18. Carrie Fisher
American actress, novelist, screenwriter, and performance artist.
Know any other famous humans owned by their French Bulldogs? Let us know in the comments!
[fbcomments]