As the name implies, roping saddles are designed specifically for roping events. Riders have to move at a faster speed than normal in order to catch the calf or steer. Then they need enough stability to aim and toss the rope without the saddle moving.
Maneuverability and stability are paramount features for a ropingsaddle. Riders also need a horn that is strong. These saddles are also equipped with added weight, usually coming from attached rigging. Rougher seats are used to prevent slippage while the rider tosses the rope. Finally, this saddle must be easy to dismount since riders need to hop off to finish capturing the steer.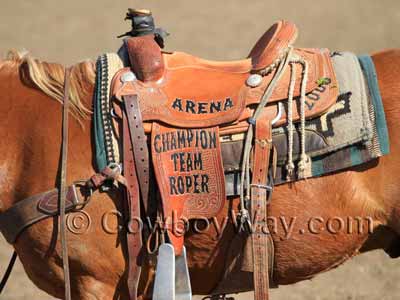 What Happens During a Roping Event?
To better understand what makes a roping saddle unique, let's dive into the specifics of roping events. These events require riders to chase and rope either steers or calves, depending on the specific event. They are timed events so competitors must have the maneuverability to work quickly. Here are the three main types of roping events:
Calf Roping:The rider chases and ropes a calf. They must hook the calf and then jump off the horse and tie its feet.
Breakaway Roping:This is similar to calf roping but rather than having to dismount, the rider lassos the calf using rope that's gently tied to the saddle. Then the horse has to come to a complete stop.
Team Roping:Two riders team up to rope an adult steer. One rider will target the horns while the other targets the legs.
Having the Right Saddle is Essential to Competing in Roping Events
If you go into an important event with the wrong equipment, then you are competing at a major disadvantage. Roping saddles make sure the rider has the best chance of success in roping events. Fortunately, there are different styles of roping saddles at a variety of price ranges so you can find the right one.
Roping saddles are designed to withstand the abuse that comes with riding events. They must have a high-quality tree and sturdy rigging. The horn is essential. It must be strong enough to withstand resistance from strong steer. The pommel is always higher than it is with other saddles but the cantle can be high or low depending on personal preference.
Overall, the design must keep the rider stably in position to throw a rope while maintaining their balance. As a result, they tend to have a deeper seat and a longer skirt than other types of saddles.
Roping Saddles on a Budget
As you can see, roping events require maximum stability and durability in order to give the rider a chance to win. Roping saddles use durable materials and are designed to withstand demanding use. They are also balanced to allow riders much more freedom of movement. However, they do tend to sacrifice a bit of comfort to meet that goal.
Be sure to shop around if you plan to buy because the mid-range prices are where you find the best roping saddles. Popular brands in the mid-priced category are Circle S and Double T saddles.  It always pays to do your research and shop around. Most of the reputable saddle manufacturers will offer a warranty on the roping tree.
Hopefully, this has shed some light on what makes a roping saddle unique, and you now know a little bit more of what to look for in a roping saddle.