Pet Bed Ideas For Your Spoilt Cat : Cats are territorial creatures, and whether yours perches over their house like a queen over their kingdom or claws out your upholstery for a cozy hole to hide in, every healthy cat needs spaces of their own to claim. Perches, scratchers, hide-away spaces, all of these contribute to the varied and enriching environment your home should provide.
If you're at a loss for how to best spoil your pet rotten, take a look at how your cat uses the space they have: do they tear up your armchair? Huddle into your blankets or under the couch? Lounge about in a too-small windowsill? For however your cat prefers to nap, here are some of the most unique cat beds even the most spoilt kitten hasn't dreamed of:
1. The Cat Cave by Pet Cave Co.
Where many mainstream pet beds have rigid walls and upholstery made to be stylish by human standards, the kind that leaves felines abandoning the bed for a cardboard box, this alternative kitty hideaway is hand-felted into a flexible orb that doesn't try to mimic human furniture. Instead, its wooly sides move and flex with your cat while giving them a secluded hidey-hole that feels like theirs, not just something a human wants them to love. Sold by Pet Cave Co it's made for, well, cats, by people who get cats.
Made from high-quality merino wool, The Cat Cave helps keep your cats cleaner, which is relieving to them, and keep them smelling cleaner, which is relieving to you. And while its unconventional design is all about cat friendliness, it does make for a stylish silhouette, don't you think?
The Cat Cave comes in varying sizes, with instructions for how to enlarge its entrance, as well as varying and even custom color combinations, to coordinate with your decor—or with your cat, if that's your style.
2. Chunky Cat Bed by Pink Unicorn Studio
If you have a cat who ditches conventional beds in favor of your oldest throw blanket, consider a bed they can manipulate and snuggle into as much as grandma's afghan—for example, these chunky pet beds made from cruelty-free wool. These bulky knit beds provide a very different kind of plush sensory comfort for your cats to indulge in. With comfort paramount, and providing an interesting texture to play with, these beds give your cats plenty to pull, knead at and snuggle up in.
Here's another bed with a bonus to your kitty's humans, too: Its contemporary style and bold colors make a lovely interior design statement, while its soft, classic callback to older-fashioned knits bring an element of comfort into any home, classic and cozy or modern and chic. Available for purchase from their Etsy store.
3. Quilted Orthopedic Sofa Dog & Cat Bed by FurHaven
Something cozy and indulgent for the elderly or arthritic cat in your life. Orthopedic beds are made with thick, dense padding that reduces stress on pressure points, indulgent for every cat and going so far as helping prevent bed sores on pets with low to no mobility. Whether your cat has lived a long life in your home, has just recently arrived to spend its ninth life with you, or is a youngster whose bones and joints need some extra TLC, the only orthopedic pet bed that will do right by your critter is a sofa of your own. Forget one cushion or one little bed- give them the whole couch!
Though orthopedic cat beds are made as a medical necessity, what that word "orthopedic" really denotes is a style of cushioning: it labels the plushest beds on the market. Not just for elderly or disabled cats, this can be the ideal indulgence for any pet who craves all your home's softest, cuddliest spaces.
4. The Ultimate Cat Scratcher Lounge by PetFusion
No matter how beautiful a plush, soft surface you offer—some cats just need to tear a place up to own it, you know? You try everything you can to indulge your cat with the most beautiful, perfect bed—they've had floofy pink princess castles, cozy neutral hideaways, lofty carpeted platforms, and every bed in-between—but some just need to claw up a surface before it's suitably snuggly and suitably theirs, and to those cats, we say, power to you. It's the feline equivalent of painting your bedroom the day after you move into the house, and it's a mostly-harmless way of marking one's territory that cat owners can choose to stress over, or choose to embrace.
This combination scratcher and pet bed ditches the floofy aesthetic of traditional pet beds in favor of something scratch-happy cats will use. Its comfortable curve and semi-hard surface is a step above lounging atop a shelf or bookcase, and just might save your human furniture.
5. Roped Cat Bridge by CatastrophiCreations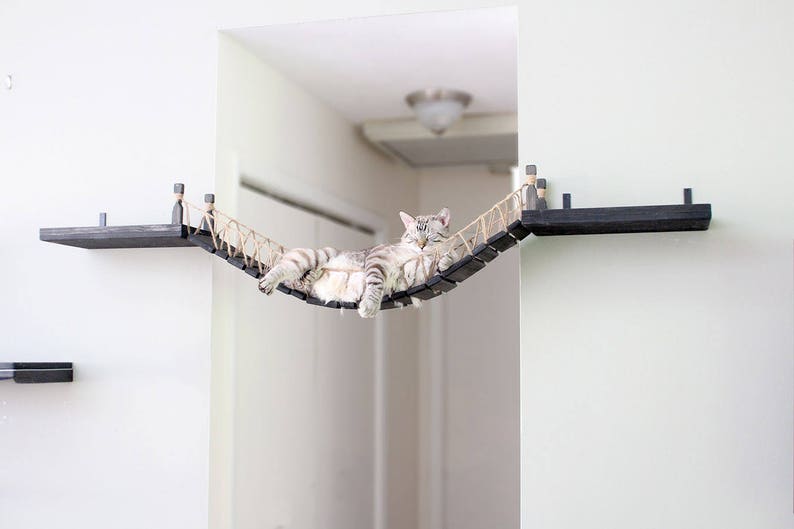 This cat bed is the perfect addition to any system of climbing shelves or wall platforms. Mounting securely to the wall on either side of a door, this Indiana-Jones style bridge gives your cat a great vantage point to look out over their kingdom, and an adorable napping perch. Put it just outside your office so your curious cat can keep tabs on you at work, in the entry to the kitchen so they can keep watch for dinnertime, or in any room where your cat could use an extra high-up perch. Available for sale here.
Giving each cat in your home a tall place to conquer is just as important as giving them a holed-up place in which to hide: one lets a cat be curled up and cozy somewhere dark, secure, and quiet, and the other gives them a sense of pride over their home and dominion. And while more and more pet owners are installing shelves and other modern climbing spaces for their cats, it's equally important to make room in all those exciting, high-up spaces to rest
===================================================
[fbcomments]